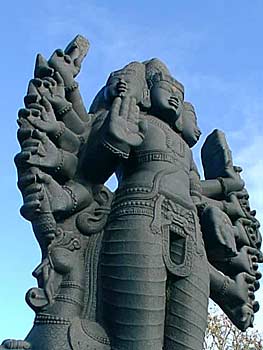 Skanda
www.himalayanacademy.com
Hinduism
May 2011
Hinduism is
described
to differs from Christianity and other similar religions in that it is not a religion in the same sense as Christianity or Islam is; it is an all encompasing way of life. It does
not
have:
a single founder,
a specific theological system,
a single concept of deity,
a single holy text,
a single system of morality,
a central religious authority,
the concept of a prophet. 
It is a code of ethics, a way of living through which one may achieve moksha (enlightenment, liberation).
News and Links
Sanatana Dharma is is the original name of what is now popularly called Hinduism or Hindu Dharma.
Sanatana Dharma is by its very essence a term that is devoid of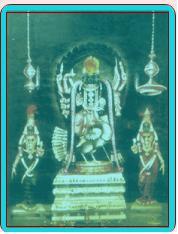 sectarian leanings or ideological divisions. This is evident by the very term itself. The two words, "Sanatana Dharma", come from the ancient Sanskrit language. "Sanatana" is a Sanskrit word that denotes that which which is Anadi (beginningless), Anantha (endless) and does not cease to be, that which is eternal and everlasting. With its rich connotations, Dharma is not translatable to any other language. Dharma is from dhri, meaning to hold together, to sustain. Its approximate meaning is "Natural Law," or those principles of reality which are inherent in the very nature and design of the universe. Thus the term Sanatana Dharma can be roughly translated to mean "the natural, ancient and eternal way."
When translated to English, Sanatana refer to Eternal, Perennial, Never Beginning nor Ending, Abiding, Universal, Ever-present, Unceasing, Natural, and Enduring while Dharma refers to Harmony, The Way, Righteousness, Compassion, Natural Law, Truth, Teachings, Tradition, Philosophy, Order, Universal, Flow, Religion, Wisdom, Divine Conformity, Cosmic Norm, Blueprint, Inherent Nature, Law of Being, and Duty.
There is no "one Hinduism", and so it lacks any unified system of beliefs and ideas. Hinduism is a conglomerate of diverse beliefs and traditions, in which the prominent themes include:
Dharma (ethics and duties)
Samsara (rebirth)
Karma (right action)
Moksha (liberation from the cycle of Samsara)
It also believes in truth, honesty, non-violence, celibacy, cleanliness, contentment, prayers, austerity, perseverance, penance, and pious company.
About Ettukudi Murgan Temple |Getting to Ettukudi and pooja timings
Hinduism: References & Links
There are many websites for Murugan. I would highly recommend http://www.kaumaram.com/
The other site is Murugan.org, which also has a weath of material. and
There are many links for those who wish to learn about Hinduism. A good place to start is wikipedia which has many references to hinduism, the starting point being
http://en.wikipedia.org/wiki/Hinduism
The Himalayan Academy is an Hindu order based out of Kaui, Hawii and they have a lot of material on their website geared towards a western audience,
There are many websites for Murugan. I would highly recommend http://www.kaumaram.com/
Anyone interested in Hinduism will find many references and links on the internet.
I welcome any further material that devotees would like to add