Murugan Bhakti
http://en.wikipedia.org/wiki/Murugan and
Murugan Bhakti, or the worship of Lord Subramanya is manifiested in many ways, some of them are unique. Traditional worship includes those in temples and veneration in songs and music. Unique aspects of Murugan worship include carrying the Kavvadi and personal scarifices such as firewalking. There are also several festivals and poojas devoted to Murugan Bahakti. Please read below for some of the ways that Muruga is venerated. While most of these are south Indian, there are pockets of workship in north India.

This details below are not exhaustive nor complete but merely a subset of the ways that Murugan is worshipped. Please feel free to provide additional links or information to improve this page
Featured | Ettukudi Temple and Adjoins...
News and Links
Murugan Festivals
Murugan is worshipped throughout the Tamil year. Some of the more important fesitivals include Skanda Shasthi, which is celebrated on the sixth day of the waxing phase of the moon in the in the Tamil month of Aippasi (approximately Oct. 15th-Nov. 15th) and commemerates the Shanmuga's victory. The another important festival is Thaipusam, celebrated by the Tamil communities worldwide near the full moon of the Tamil month Thai. This commemorates the day he was given a Vel or lance by his mother in order to vanquish the demons. Thirukarthigai or Kathigai Deepam is celebrated on the full moon of the Tamil month of Karthigai and signifies Muruga's birth. Each Tuesday of the Tamil month of Adi is also dedicated to the worship of Murugan. Tuesday in the Hindu tradition connotes Mangala, the god of planet Mars and war. K. V. Ramakrishna Rao has provided interesting resreach on the zodiac significance of Murugan festivals.
Murugan worship in dance and music: Kavvadi
Kavadi Attam is a dance performed by the devotees Murugan, performed during the festival of Thaipusam and emphasizes debt bondage. Unlike other festivals, participating in Kavadi generally involves some physical strain or burden through which the devotees implore for help from the God Murugan. The legend is that Lord Shiva entrusted the Sage Agastya with two hillocks, with instructions to carry and install them in South India. But the sage left them in a forest and later asked his disciple, Idumban to get them. Idumban found the two hillocks, but could not initially lift them, until he obtained divine help. Near Palani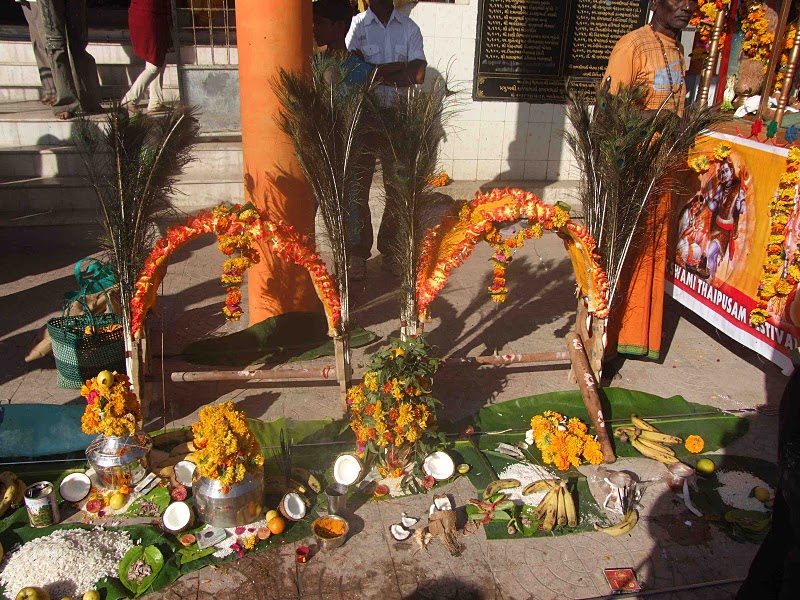 in South India – where to this day there is a famous shrine of Murugan — Idumban put the hillocks down to rest awhile. When he attempted to continue with his journey, he found that the hillocks were immovable. Idumban sought the help of a scantily dressed youth, but the youth claimed the hillocks belonged to him. In the ensuing scuffle, Idumban was defeated. Idumban then realised that the youth was Lord Murugan. Idumban pleaded to be pardoned and asked that anyone who comes to the hills to worship Murugan with an object similar to the two hillocks suspended by a rod, may be granted his heart's desire. Idumban's wish was granted. And so the kavadi came to play its role in Hindu festivals. Participants in the Kavadi often sing a special type of folk song call the Kavadi Chindu.
KavaDicindu is a generic name for a variety of tamil folk song composed and popularized by Annamalai Reddiar. The songs have stanzas but no pallavi, anupallavi and caraNa divisions. Some are set to common ragas like cenjuruTi and Anandabhairavi but most others are based on harikAmbhOji notes. The songs are meant to be sung by people who carry the kAvaDi as an offering. Most are in praise of Subramanya and are steeped in bhakti. Here is a link to a song on the Kumran.org site which begins with seermEvum ettikkudi vAzhum
Murugan Hymms, and Shlokas
There are many differnt hymms and shlokas to Shanmugam both in Sanskrit and Tamil. One of the best sources for Sanskrit shlokas relating to Subramanyam is the Sanskrit Documents site
A variety of documents reside over there including
Another great site with many sholkas, mp3 recordings and the lyrics in tamil is
Kumaran.com
They have a great selection including a recitiation of
Sri Adi Shankara's Sri Subrahmanya Bhujangam.
This is a beatuiful work composed by Adi Shankara at the Trichendur temple. Some other shlokas include
In Tamil, the most important prayer to Murugan is Skanda Shastik Kavacham
Murugan Hymms, and Poetry
Tiruppukal or Thiruppugazh (Tamil திருப்புகழ் tiruppukazh "Glory to the Lord" or "Divine glory") songs have been closely associated with Murukan worship since the 15th century and play a vital part in Murukan worship to this day. This study will look at Tiruppukal and the impact they have had upon Murukan worship.
Tiruppukal songs were composed by Arunakirināthar in the 15th century as 1,367 discontinuous songs. They can be described as lyrical hymns interwoven with the doctrines of Saiva Siddhanta philosophy1 and are also based on the hymnal tradition of Saiva and Vaishnava bhakti. The combined elements of all-India mythology2 with indigenous Tamil myths and legends concerned with the cult of Murukan give a feeling of harmony for people who belong to both cultures. In this way Tiruppukal songs also play an important part in bringing harmonious integration of two cultures, Sanskritic and Tamil. This total penetration of elements Sanskritic and Tamil are happily blended together in Tiruppukal.
Tiruppukal songs can be divided into three main categories:
lyrical poetry of personal experience with autobiographical materials;
lyrical poetry with elements of philosophy; and
straightforward hymns praising Lord Skanda-Murukan.
Murugan worship in dance and music
Murgan worship and dance is not just confined to South India. Here is a video of worship to Karthik Swami in Gehrwail. There are some 12 parts in the video, and you can watch em all in YouTube.
About Ettukudi Murgan Temple |Getting to Ettukudi and pooja timings