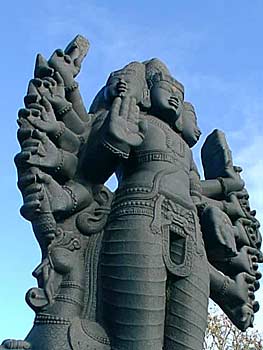 Skanda
www.himalayanacademy.com
Welcome to Ettukudi Murugan
May 2011
Call him Karthikeya; Call him Murugan; Call him Skanda, Subramanya, Shanmuga, Senthilnatha, Swaminatha, Saravanabahva,,or a thousands other names of devotion, he holds a very important place in the Hindu ethos. He is revered in many countries across the world as an important deity in the Hindu Pantheon. In fact Skanda is also referenced in Chinese and Sinhala Buddhism.

This web site is dedicated in general to Lord Subramanyam and to Ettkkudi Murgan, the presiding deity of the temple in the town of Ettkkudi, in specific. It is hoped that this site will serve as introduction to Murugan worship and Hinduism, and complement other similar sites in a totally non-commercial forum. This site is not sponsored by the temple. Read on below about this temple's legend or click on Links about news features or other temples...
Featured | Ettukudi Temple and Adjoins...
News and Links
EttuKudi Murugan: An introduction and the legend
Ettukudi Murugan or the Subramanya Swamy temple at Ettukudi, though not one of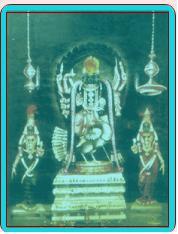 the Arupadai veedu - or Six Sacred Temples of Lord Muruga, achieved popularity mainly through veneration in songs including by the 14th century Tamil poet Saint Arunagirinathar and today, through folk music (kaavadi cindhu) and other devotional songs. This temple is famous for its kaavadi procession. One of the unique features of this temple is position of the peacock, the mount of Murugan. The head of the peacock in all Murugan temples is seen facing the right side. However, in Ettukudi, it is seen facing the left. This fact is also mentioned in the Kandapuranam.
This temple is linked closely with the temples in Sikkal and Ennkann through the legend that the images of Skanda in all three of these shrines were made by the same sculptor. The story (there are variants to this story but they are very similar) is that the sculptor who made the Subramanyar image of Sikkal was awe struck by its quality that he vowed that no other such image should be made, and cut off his right thumb (though one variant claims it was the Chola king who had it cut off).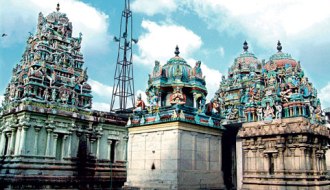 He was then prompted by Subramanyar in a dream, to fashion another image for the shrine at Ettukudi. He followed the instructions in his dream, and when the image was complete, blinded himself (or the king blinded him as per the variant) so that he could not create images any more. Another dream prompted him to create a third image of Skanda mounted on a peacock with the aid of a woman (some say his daughter), when his chisel inflicted injury upon her; the blood that gushed forth splashed over his eyes, and in a flash he recovered his eyesight miraculously, and in a spate of poetry revered Skanda. The first phrase that he uttered upon recovering his eyesight was 'EnKann' (my eyes)- hence the name of that temple.
Read on more about the Ettukudi Murugan temple.... .
About Ettukudi Murgan Temple |Getting to Ettukudi and pooja timings